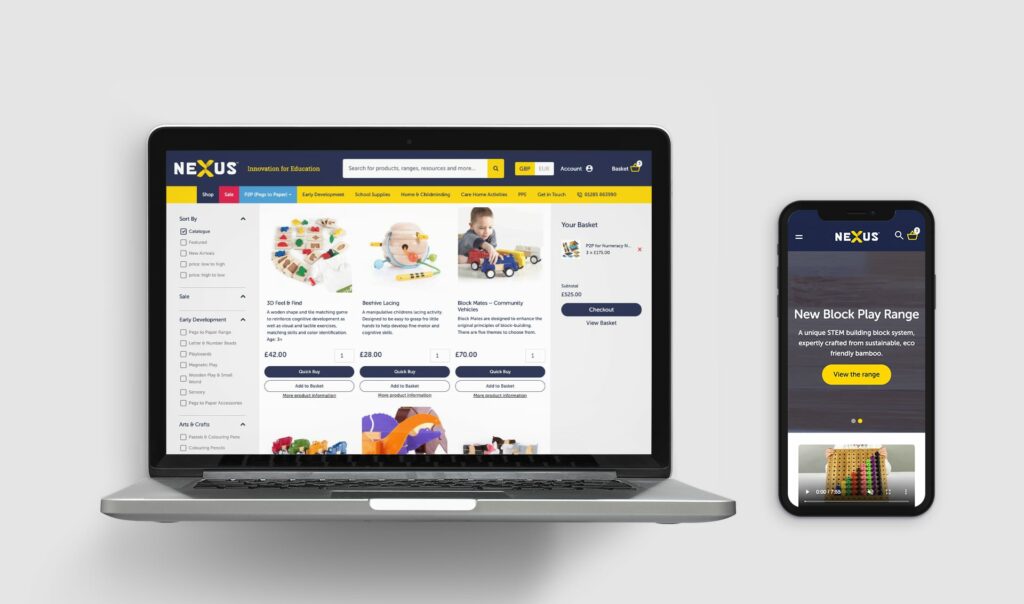 Learn Play Nexus
A NEW AND INNOVATIVE E-COMMERCE PLATFORM
---
CRM ,
E-Commerce ,
Hosting ,
Maintenance & Support ,
SEO ,
Software Development ,
Web Development ,
Website Design ,
Who is Learn Play Nexus?
Established in 1995, Learn Play Nexus designs and supplies high-quality educational equipment and toys, coming up with novel ways to help deliver the national curriculum focusing on innovation for education.
After growing their business to over 20,000 customers and 800 products, Learn Play Nexus faced the challenge of streamlining and modernising their current, paper-based account management processes while ensuring these upgrades were cost-effective and would ultimately result in increased ROI.
Following a thorough tender process, Learn Play Nexus tasked STAXO with managing a company-wide Digital Transformation Program, which required creating and integrating a new bespoke CRM package and e-commerce website with the existing Sage 200 accounting system.
The Brief
The ideal CRM system needed to streamline the way the Learn Play Nexus team worked and would ultimately provide a single, secure point of access for the management of sales and capturing of customer account information and the ability to record communications and capture and process expenses and commission payments.
Key to the project's success was integrating several customer management and order processing tools under one easy to use the platform to replace the current sales-order system and allow customers to place orders and view their account history easily.
The Process
The STAXO development team created a system that would empower team members and allow for increased visibility and proactive account management, accessible via an intuitive and user-friendly interface designed to enable users to navigate between tasks with ease.
A daily planner was incorporated into each user's dashboard to record Outlook calendar appointments and prompt relevant team members about upcoming customer follow-ups. The daily planner maximised the time-saving and organisational benefits of the CRM system.
STAXO developed a tool that integrated the CRM system and Google Maps. The device highlighted active and non-active account locations on a map, with the ability to visually map out the most convenient routes between appointments, vastly increasing efficiency across the Nexus sales team. 
A built-in Email Management System (EMS) allowed custom mail merges for specified account groups. The EMS ensured that outgoing and incoming emails automatically logged the relevant account and contact records.
A categorisation system introduced enhanced communications and reporting functionality. The system allowed grouped email addresses by particular job functions for quick and easy segmentation and assignment to individual account managers.
Clients were also able to be organised into a hierarchy based on their annual spending, providing an overarching view of the structure of key contacts and accounts.
The Result
By combining a simple and efficient design with process-driven technology, the STAXO team created a highly effective management tool for the Nexus sales, finance and account management teams, resulting in a 100% increase in turnover.
As well as enhancing interaction and visibility between customers and account managers and unlocking the potential of data analysis to increase sales, the new CRM system revolutionised the way Nexus staff managed their time.
Onerous paper-based administration and reporting processes were automated and streamlined, saving time and allowing for greater insight into various aspects of the company's internal workings, from finance and HR to sales and account management, thanks to integrated bespoke reporting tools.
Learn Play Nexus now benefits from a flexible, scalable and secure system designed to enable the effective and effortless management of company processes and customer communications.
Visit Website
We have been consistently impressed by the knowledge and professionalism shown by everyone at STAXO – so much so that we have chosen to work with them on our entire Digital Transformation Program, as well as several additional enhancements to our new CRM system. From start to finish, our requirements were understood and translated exactly as we envisioned, and the advice and expertise of the STAXO team allowed us to create a system that will grow with our company into the future.
Nexus
Simon Jones | CEO & Founder
Get in Touch
All great relationships start with a conversation, so please get in touch.