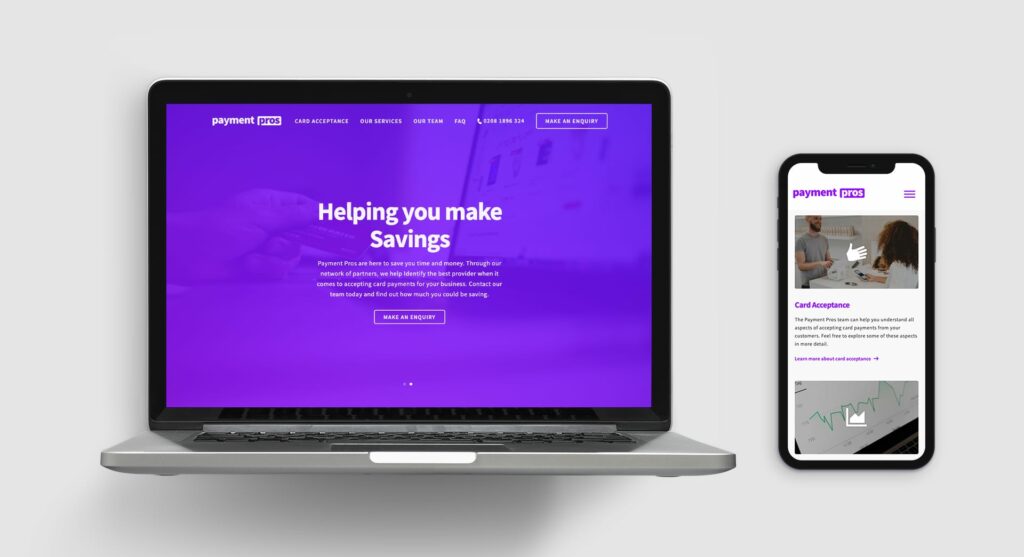 Payment Pros
A FLEXIBLE, BESPOKE WEBSITE FOR A PAYMENT GATEWAY ADVISOR
---
Branding ,
Hosting ,
Maintenance & Support ,
Software Development ,
Web Development ,
Website Design ,
Who is Payment Pros?
With over 50 years of combined experience in the financial services, card acceptance, and merchant services arena, the team at Payment Pros offer a unique, free service designed to match sellers with the best payment solutions for their specific requirements.
The Brief
Payment Pros approached STAXO to deliver a striking new brand for their business and design and develop a new website to showcase their innovative services.
Payment Pros requested the production of a complementary suite of marketing collateral and company documents to allow all facets of the new brand voice and business operations to promote to prospective customers.
The new brand had to be strongly articulated and distinct, with the ability to stand out in a crowded finance and technology sector and promote an image of expertise and trust.
The Process
The creative team at STAXO conceptualised a complete brand image for Payment Pros, starting literally from the ground up and creating a solid foundation by brainstorming the new company name and accompanying typographical logo.
Through a series of creative and technical workshops, our designers worked closely with the Payment Pro team to develop a compelling brand, motivated by the principles of colour theory and drawing inspiration from the wider fintech sector, while remaining as unique and memorable as the services on offer.
The STAXO web development team then used the overarching brand principles to create a custom-built WordPress site with a sleek design and super-fast loading times, representing the intrinsic values of the business and highlighting important content in easily accessible formats.
The site is responsive and dynamic, ensuring seamless usability across browsers and devices while optimised for both on and off-page SEO.
Finally, Payment Pros received a range of marketing material and company literature for use on social media and in day-to-day client relations, ranging from informative explainer videos and social media adverts to business cards and email signatures.
The Result
By employing a fully integrated approach to the project, the STAXO team ensured that all branding, website design and marketing elements combined seamlessly to elevate the Payment Pros brand. A strong, established fintech sector presence allows the business to reach its target audience successfully.
Visit Website
STAXO went above and beyond our expectations, delivering a complete brand as well as all the necessary tools to market our business online. We felt thoroughly involved in every step of the process without being burdened by unnecessary meetings and endless questions. The team managed to distil exactly what we wanted – and some things we didn't even know we needed – into a streamlined and scalable solution that can grow along with our business.
Payment Pros
Gregg Morris | Managing Director
Get in Touch
All great relationships start with a conversation, so please get in touch.