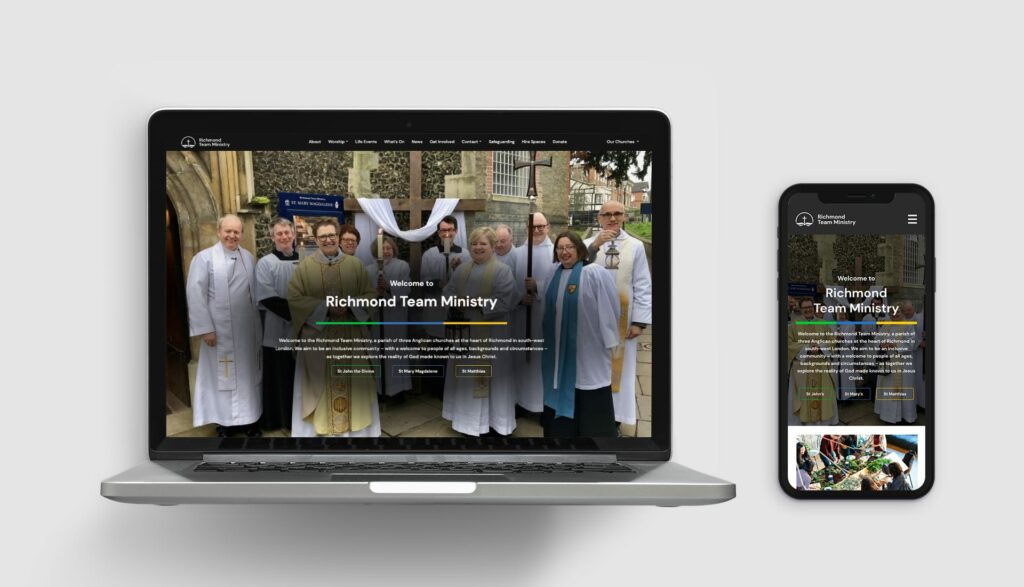 Richmond Team Ministry
A REFRESHING AND MODERN WORDPRESS WEBSITE TO INCREASE ENGAGEMENT
---
Hosting ,
Maintenance & Support ,
Website Design ,
Who is Richmond Team Ministry?
The history of the Church of England parish in Richmond dates back at least 800 years. The original St. Mary Magdalene church was built at the end of the 12th century, St John the Divine in 1827 and St Matthias in the 1850s. These three distinct churches work as equal partners in a team to better serve the greater community from what we know as Richmond Team Ministry. Working together since the 90s, the strength lies in the freedom of the three churches to worship in their distinctive ways.
The Brief
Richmond Team Ministry was introduced to STAXO as they were looking for a new digital partner to review their brand and create a new website for the Ministry and its local churches in the Richmond area.
STAXO could see that the branding needed a refresh and that each church had a sub-brand as part of the redesign. The existing website was dated and not responsive to mobile devices, and the overall look and feel did not truly represent the rich and deep 800-year-old history of the iconic churches.
The overall objective for Richmond Team Ministry was to increase their online engagement with the community and, ultimately, the membership of the churches.
The Process
The STAXO team designed the new website to be bespoke, elegant, and unique, giving visitors the feeling of enthusiasm to want to get involved with the Ministry's activities.
As part of the brand review, STAXO looked to realign the Ministry's four separate brands into a single consistent brand with three sub-brands, one for each church. When looking at pages relevant to a single church, users still feel that they are on the Richmond Team Ministry site.
It was essential to develop a website that allows any user the Ministry to update and add elements and content within the designed templates. Key members of the churches can also log in and view private information such as steward rotas.
The Result
The result is a highly flexible, fully optimised, bespoke website that correctly supports Richmond Team Ministry as they continue to grow.
Get in Touch
All great relationships start with a conversation, so please get in touch.