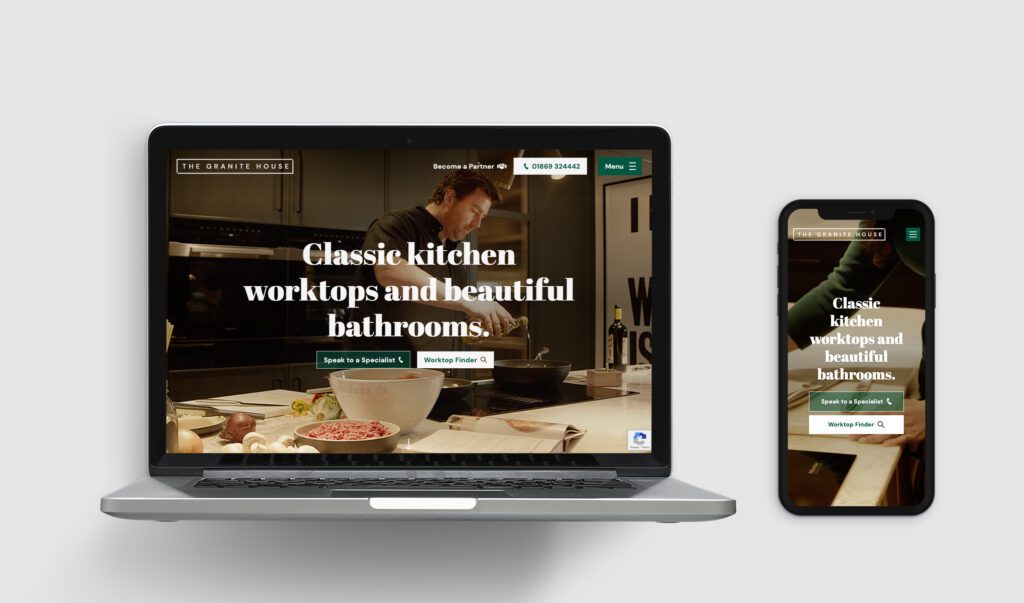 The Granite House
---
Branding ,
E-Commerce ,
Hosting ,
Maintenance & Support ,
SEO ,
Website Design ,
Who is The Granite House?
The Granite House is a highly sought-after granite, quartz and marble worktop manufacturer, supplier, and installer. The business has delivered bespoke surfaces and services throughout the UK since 2005 and prides itself on being the number one solution-finders to any customer or contractor's needs. Built on dedication and passion, The Granite House provides worktops and a wealth of specialised expertise within their team to add value to their projects.
The Brief
STAXO was tasked with redeveloping the existing website into a fully optimised, responsive, and user-friendly platform. The new website called for crucial user engagement insights taking a user along the journey, selecting the appropriate premium worktop for their needs, and contacting the team experts. Therefore, strong call-to-action buttons and contact forms were essential. The UX and UI design needed to be adaptable to the growth of The Granite House and offer a visible ROI.
The Process
The web design and development team for STAXO immediately jumped onto the opportunity to extract the most out of a new website and ensure that The Granite House achieved the digital transformation it was after. Not only was the UI design refreshed for future growth, but STAXO created an in-depth materials catalogue for users to browse their desired worktops, including helpful filters based on thickness, finish, and price. STAXO developed a step-by-step form wizard to help users find the worktop best suited to them, alongside some inspiration and tips from the team. The website allows the in-house team to have a bird's eye view of monitoring their customer journey and perfecting their digital presence.
The Result
The result is a responsive and strategic website representing all that The Granite House offers. Coupled with future development and expansion capabilities, the team can now maximise customer interaction and engagement through their new website.
Get in Touch
All great relationships start with a conversation, so please get in touch.